Jeff & Margaret Reed's 1967
"Street Survivor" Chevelle
In February of 1987, while on his way to work, Jeff spotted this '67 Chevelle sitting in a backyard with a tarp over it. He decided to stop and get a closer look. Upon investigation it was revealed that she had been hit hard in the front end. In a conversation with the young owner, Jeff found out that a weekend of hard partying and a "rendezvous" with an oak tree was the reason for the shape she was in. Jeff asked if he was interested in selling the car. He was informed that the owner's grandmother had given him the car a couple of years ago to drive back and forth to college and he had every intention to fix her back up. To make a long story short, at this time he was not willing to part with her.
For approximately two months, Jeff kept a sharp eye on the Chevelle on his way to work. Nothing was happening. Jeff decided he would stop by and try again. The owner had collected a fender and bumper, but did not have a clue how to work on cars, much less put a front end on! This time Jeff's effort paid off. A deal was struck! Jeff came back the next day with a trailer and $250 cash in hand. She was finally all his!
Once he got her home, it was time to take a closer look and assess what the real damage was. When Jeff was done with his inspection, he just knew she could be repaired and had lots of potential. He'll never forget one Sunday afternoon when his parents stopped by for a visit. His mom looked over at the Chevelle and said, "WHAT ARE YOU GOING TO DO WITH THAT HUNK OF JUNK?" Now, you'll have to envision in your mind what she saw. Isn't it funny how Mom and Jeff just didn't see the same thing. Was Mom right? After all, the passenger side was pushed back to the firewall!
She then sat for a few years while Jeff gathered the parts to fix her up. In 1993, Jeff took his "Hunk of Junk" to Terry "Goat Head" KYLE (aka, Jack Of Arts Auto Body, a friends shop in Shippensburg, PA). Ya see, Terry has this special place in his heart for '66 and '67 Chevelle's. He looked her over and said "I CAN FIX HER". Jeff and Terry replaced the mangled frame. With this tedious task complete, Terry began to perform his "magic" to massage the entire body back to its original state.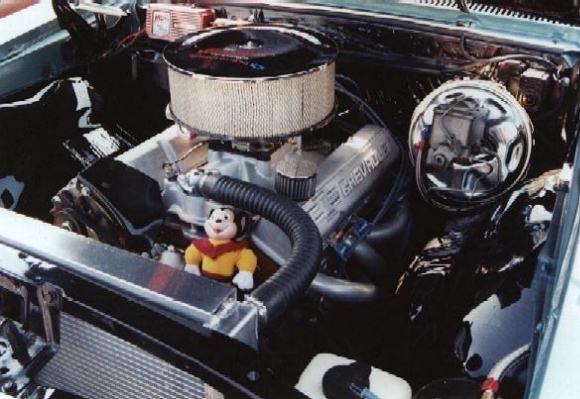 Meanwhile, Jeff and Tommy "Da Moose" Morris started building the motor. Jeff chose a 406 small block with dart2 heads, added a Lunatti solid cam, and followed with a set of Harlan Sharp roller rockers. A Victor Jr. manifold and 750 Holley was bolted on to insure she would never be thirsty. A set of Hooker Pro Comp headers along with a 3-inch stainless steel exhaust system makes exhaling a "non-issue". To back all of this horsepower, Jeff added a Thoroughbred Turbo 350 transmission and 12 bolt 410 posi rear. A set of Centerline Warriors rims with BF Goodrich Drag Radials keeps her glued to the pavement.
In June 1995, Terry applied the original color Emerald Turquoise paint and 6 coats of PPG Deltron Clear. Jeff and Terry then installed all of the exterior parts, completing a job well done. In October she was just about ready to bring home.
The Aqua door panels, seat covers, carpet and headliner were ordered from C.A.R.S. Jeff and Terry went to work to restore her insides back to "better" than original condition. Once again Terry performed his "magic" and installed the headliner. A Fairbanks shifter was installed to run through the gears. An Autometer Tachometer ensures Jeff shifts "just at the right time". In addition, a set of Autometer gauges was installed to keep track of the vitals.
The first show Jeff entered was the 1995 Street Cars of Desire. Jeff didn't bring home a trophy that day, but felt just as proud of his accomplishment. Since then he has won several trophies, including a Best of Show. Jeff gives many thanks to Tom and Terry for all of their help. Without them, it just wouldn't have been possible. And of course we couldn't forget Jeff's wife Margaret. For many months, Margaret traveled relentlessly with Jeff every other weekend from MD to the shop in PA to work on the car. And what about Mom you ask? Jeff vividly remembers the day when Mom saw the finished results. "THAT CAN'T BE THE SAME CAR!" she exclaimed. It would appear that both Mom and Jeff saw the same thing this time!

Jeff & Margaret Reed (#125)
Finksburg, MD

Click Here to view Previous Features of the Month