August 2002 Feature Car of the Month
---
Mike Annenís Original Unrestored Ď70 SS 396
As many a car enthusiast has said, if you can't find it at Carlisle, you're probably not going to find it. Here is a fine example as Mike Annen of Forest Hill, Maryland found out. He found and purchased this all original, un-restored, Desert Sand '70 SS 396 at Spring Carlisle on April 19, 2002 for $14,500. This is one of those times where it paid off for being in the right place at the right time.
Just as Mike and his friend Skip were heading down the last isle of cars he spotted this golden nugget. Fortunately for Mike, the owner (Rod Saboury) had just pulled in with the car not even 10 minutes before his arrival. For those that don't know Rod, he is an ex-outlaw drag racer and a very well known Corvette collector. Rod only had this Chevelle in his possession for 1 day. Rod had just taken this car in trade from the second owner, Rodney (who knew the original owner and worked for the original dealership) for one of his Vettes. Rod was not out to make a whole lot of money on this car, even though Mike feels he probably could have gotten more for it. Rod did have one offer from a dealer for $14,000, but said he really didn't want to sell it to a dealer because they would just strip it down, restore it and resell it for a huge profit.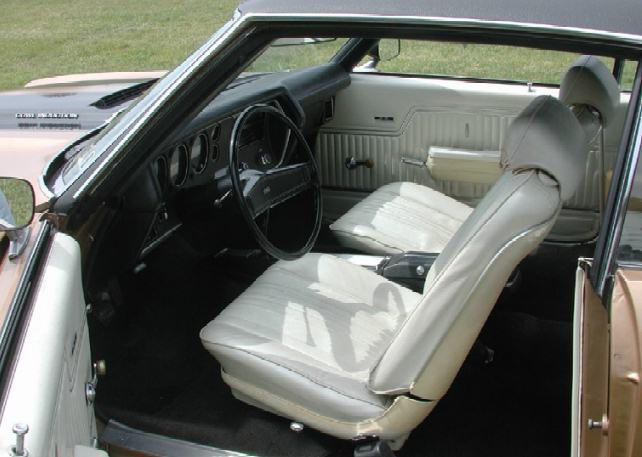 Well, after Mike looked over the car, he couldn't believe what he was seeing. This car was pretty much an all original, untouched gem with just 47,000 miles on the odometer. Taking a look inside revealed the original ivory bucket seats, SS steering wheel, console, factory gauges and tachometer. Under the the hood, was the stock 396/350, backed up with a 4-speed transmission and a 3:31 12-bolt posi-traction rear. Power steering helps to make the turns just that much easier, while the power disc brakes help to get her stopped once she gets rolling. The Cowl Induction hood is fully functioning. Little to say, Mike needed no further convincing that this was the car for him. After a little negotiation, the rest is now history.
Speaking of history, the history of this car is quite interesting as well. Campbell Chevrolet of Dornsife, PA ordered it from GM on 8/21/69 and the car was manufactured at the Baltimore, MD plant. The original owner purchased this car from Campbell Chevrolet on 9/30/70 and only kept it for 2 years. He then traded the car back to the dealer because he could not afford to put gas in it during the gas crunch. The dealer kept it as part of his collection, displayed it on the showroom floor for a few years and then put it in storage for over 20 years. In 1995, Rodney bought it from the dealer and he said he only put about 4000 miles on it.
This car came with all documentation in the original dealer folder. The dealer order sheet, invoice, window sticker, 2 build sheets, sales brochure, owners manual and protect-o-plate.
Mike plans to replace maintenance items with OEM originals. He knows it can be restored over and over, but she can only be original once!

Mike Annen (#530)

Click Here to view Previous Features of the Month