February, 1998 Feature Car of the Month
---
Andy Kromulis' 1966 300 Deluxe

"ME AND MY CHEVELLE"... In the old days I used to have a '71 Chevelle and my wife had a '72! That's why she went out with me, she loved Chevelles!
In April 1994, I got the itch bad. I wanted a loud, fossil burning, tire smoking, high performance Chevelle; something that would give Al Gore and the rest of his environmental wackos nightmares! I didn't spend much time looking. I found my Chevelle in the Auto Trader, went and looked at it, and just drooled! I came home, told my wife about it, then went back and bought it for $6500 without even driving it, and only hearing it run!
I bought it from a young family man in Severn, MD who restored it in 1992. That man had gotten it from his brother who in turn had bought it from the original owner in Baltimore. It's a '66 300 Deluxe 2 door sedan built in the second week of July, 1966, in Baltimore MD. Originally it was a cream colored exterior with a medium fawn colored interior. It originally had a 283-195 HP V8 with a 3 speed column-shifted manual transmission.
It now has a gorgeous black paint job, with black bucket seats and Corvette rally wheels all around. The 400 HP small block 350 4 bolt engine is bored .030" with flat top pistons and Chevy aluminum heads, yielding 10.5 to 1 compression. A solid cam, Edelbrock Victor Jr. intake, Holley 600 carb, and Accel electronic ignition completes the top end. The Hedman headers are coupled to a dual California Turbo exhaust system. The B&M twin draft air cleaner assembly uses dual K&N filters. The 400 turbo automatic trans uses a B&M Quicksilver shifter and a 3000 stall speed converter. Out back, the 12 bolt posi rear end houses a set of 4.56 gears.
After bringing the car home, and now beginning to feel like it's all mine, I started to check it out more closely and discovered a few things... Like the brakes didn't feel quite right. After checking the master cylinder, I found out that there was no fluid in the rear chamber (it's a dual chambered master cylinder). Further inspection revealed that the rear brakes were rusted up, installed backwards, and were not even functioning. There's project #1!
The next major thing I found was that the driver side floor seemed soft and spongy under the original rubber mat. Upon closer inspection, I found that the floor pan was rusted out. This was caused by water leakage through the lower corner of the windshield. I decided to have the old rusty floor pan cut out and a new one welded in. This was the only thing I needed to have done professionally; everything else I did myself. That was project #2!
The next problem was trying to keep the temperature below 200 degrees when idling. I upgraded the radiator to a 4 core unit, and then added an electric fan. This helped, but I'm still not totally satisfied, because it still runs warmer than I'd like it to.
The last major problem was hard starting when the engine was hot. This was remedied by installing a Holley electric fuel pump. The rest of the work was a real experience; with some of the jobs giving me Excedrin headaches. Nothing major, just little things that come with the territory of restoring an old car. Like breaking special plastic fasteners or clips that aren't even made anymore (or even reproduced!) etc...
Actually, I'm just a big overgrown kid that really enjoys restoring something. I then sit back, proud of what I've done, and take in all of the compliments I can get from others, especially from my wife! She was really amazed when she saw how I gutted out this car and then put it all back together again!
Would I have bought the '66 knowing before hand about all of its problems? Probably so. But I'd still like to have a '70 or '71, maybe even a convertible. I know my wife would. But when you get that 400 HP, tire smoking, gear snatching Chevelle itch, you've gotta come up with the scratch and just scratch it! Especially when you find a screamer like this one!
Well, I haven't taken the car to the track yet, but I know it screams! The previous owner took it to the track once, and it ran low 13's. I know it will go in the 12's. It's plenty quick enough for my "itch".
I just want to thank the people at Year One and Summit Racing for their help, technical advice, and parts. I would also like to thank Cartime/Waldorf Upholstery for their expert tips on working with vinyl, and James Hinshaw in Burlington, NC for providing me with many parts. So far I've spent another $2,255 in this car and James got most of it!
Future plans call for some more interior work, which includes a new console and black seat belts. I plan on replacing the front and rear springs, doing some front end work, and redoing the trunk area. I would also like to get an SS hood to replace the flat hood that someone stuck some Nova louvers on. They just don't look quite right on a Chevelle. Also, my wife wants to add some rocker panel and wheel opening mouldings.
We hope to attend some local cruises, shows, and club meetings. See you all there and cruise on!

Andy Kromulis
Friendship, MD
Member # 206
---
MORE Pictures of Andy's 66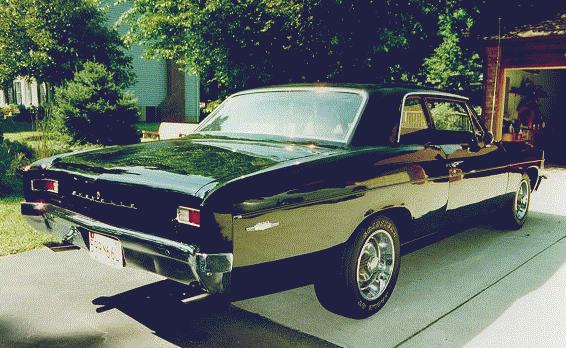 Click Here to view Previous Features of the Month