George and Sherrie Parkinson's 1966 SS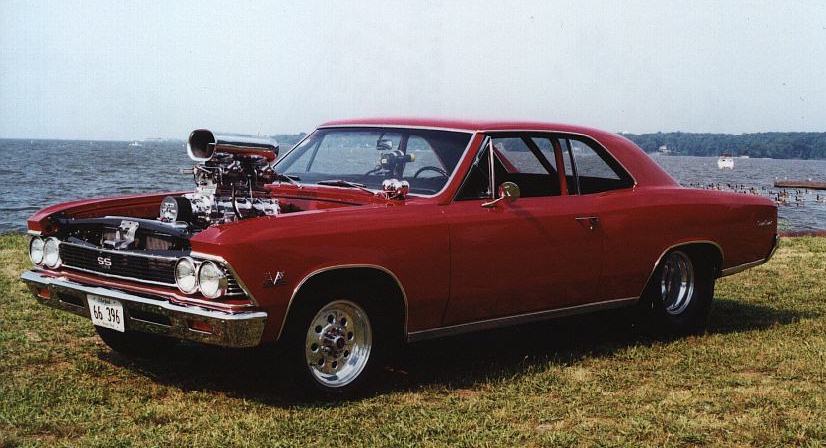 If you had to use one word to describe George and Sherrie Parkinson's '66 SS Chevelle, it would have to be "bitchin". Yes, this is an old fifties term, but here it definitely fits the bill.
In the not so near distance, you hear the distinct whine of a blower. As it gets closer, the vast rumble of one radical 427 Big Block Chevy is quickly closing in. Finally, after what seems like half an hour, you see an indication of what you have been hearing. You turn your head and stare in awe as this awesome Blown Rega Red Chevelle enters the grounds.
George and Sherrie purchased the car in 1987, less motor and trans, from friend Herb Sullivan. They installed a stock 396 and 4-speed transmission and used her as a daily driver. Well, a stock 396 is nice, but not quite nice enough. George decided she had to have more power. Out came the stock 396 and to the machine shop it went. She was bored .060 over, fitted with Speed Pro 12.5:1 pistons, rectangular port GM heads, and a Lunati solid lift cam. A Weiand tunnel ram was added to provide a solid foundation for the twin Holley 650 carburetors that would help propel her quickly down the road.
Eight years later George wanted even more power and bigger tires. Little did he know that a conversation with his friend Herb was about to change the Chevelle's appearance forever. Herb's proposal was to jack it up and cut it up. That's just what they did. An S&W chassis rear frame kit was purchased and installed. Ladder bars and coil over shocks were added. The 12-bolt rear was narrowed and fitted with Mosser axles, a spool and 513 gears. A set of Protrac 33x22 inch tires were mounted to the 15x14 Weld Draglites rims. To help slow this baby down from a full throttle George added a set of Wilwood disc brakes.
When restoring a car to this caliber, there is only one way to do the job right. All of the chrome was removed and she was stripped down to bare metal. New quarter skins replaced the old ones. George had to stretch the rear fender wells 3 ½ inches to accommodate the massive tires. This is one modification that is not easily detected. George and Sherrie Parkinson's 1966 SS
When it was time to give her some color, George decided to try it himself. In June of 1996, he dragged Sherrie out into the garage and sprayed her and the car with Rega Red Acrylic Enamel, followed by 4 coats of clear. Not bad for a first timer, they both turned out just beautiful. The help of Martin Senour was enlisted to spray the undercarriage with black Acrylic Enamel and of course a few coats of clear. Now becoming quite a family project, George and his daughter Shirley put on all new chrome, trim and weather stripping. A few weeks later, it was off to Stevens Custom Upholstery to have the black bucket seat interior installed. Note the skeleton hanging from the rear view mirror in the above picture. This is George's trademark in the Annapolis area.
After the 396 and 4-speed transmission were reinstalled, Tony's Custom Exhaust installed a 3-inch flow master exhaust system. This was only to last one summer. A 427 block was acquired from another friend, Tim Pearl. George started acquiring all of the parts to fill 'er up. Ed Cannup bored the block .060 over and balanced the complete assemble. Arias 8.1 Blower Pistons, a GM steel crank, 7/16 rods, Lunati solid lift cam and GM rectangular port heads were installed. With the help of Donnie Miller, the Weiand 871 blower was installed and topped with two Holley 750 carbs, and a MSD ignition. After lots of help from family, friends and lots of money, George is finally satisfied and whistles through down town Annapolis, Maryland. Annapolis is not only known for it's red hot steamed crabs and sail boats, it is also known for George's Blown Red 66 Chevelle SS.

George & Sherrie Parkinson (#438)

Click Here to view Previous Features of the Month
Return to Maryland Chevelle Club Home Page