Tom Morris' 1971 Malibu 400 Convertible
Did you know Tom was a two-timer? He owned this red '71 Malibu 400 convertible once, sold it to buy a Z28, then unloaded the F-body to buy this drop-top back. This took place over three months and he hasn't looked back since! But now he had to decide what to do with it, concours resto, race car, driver? He decided to begin a frame-off restoration and let the chips fall where they may! Tom began his project in 1986 with sheet metal replacement using new GM parts. Taking place over 3 years, the drop-top spent time on and off at a friend's shop in Shippensburg, PA. Tom knew he had to be patient if he wanted the job done right! As evidence of the arrow-straight body panels and endless-shine red paint, it was time well spent! All bright trim was also replaced.
While his topless body was getting massaged, the 402 big block was receiving a rebuild with 9.8 to 1 forged pistons, steel crank and rods, and a Comp Cams 560 lift hydraulic bumpstick. The big block is backed up by a Throughabred Turbo 400 and a 3:73 12 bolt posi rear. Extra bright trim was added under the SS style hood to draw attention to the engine bay. Tom installed bright hose covering, an MSD, special chrome valve covers, and assorted other trim. Although not built to race, it did make it to the finals at the Budds Creek Royal GTO Meet and netted a 13:40 ET at 104 MPH only to be bested at the wire by a 10.0 GTO race car.
Here's how Tom goes topless. In this rare, never-before-seen picture of Tom going topless, think about the last time you saw him with his top down. You may never see this sight again!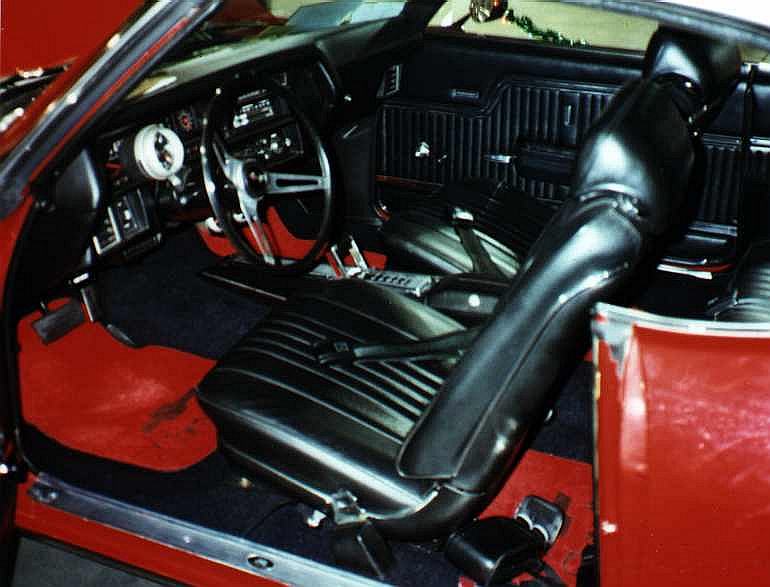 The interior received the same tender loving care Tom's topless body did, featuring a USA-1 interior kit professionally installed. The black bucket seat interior features a cushion grip steering wheel, in-dash clock, Chevelle floor mats, and Autometer gauges and tach.
Tom's plans did not include building a show car, but his red convertible has done very well on the car show circuit. Inside his trophy case, you will find several 1st place awards from "World of Wheels" shows, MCC Mid-Atlantic Chevelle Shows, and many other local events. In addition, the Chevelle has made THE trip to the ACES Chevell-a'bration in Nashville, Tennessee and the ACES Southeast Regional in Atlanta, Georgia. Tom has also frequented Super Chevy Shows in Pennsylvania where it has received honors.
Usually, the president of a car club has one of the nicest cars IN the club. Tom's '71 Malibu convertible not only looks good, he does the MCC proud! But make sure he keeps his shirt on.

Tom Morris (#124)
Elkridge, MD

Click Here to view Previous Features of the Month