Alan Abrams' Flame Orange
1972 Chevelle Malibu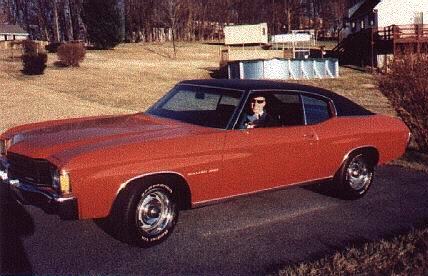 Here's a tongue twister for you! Alan's 1972 Chevy Malibu was delivered new at Chevy Chase Chevyland in Chevy Chase, Maryland. Sounds like the place ANY diehard Chevy fan should live, and what better place could this Flame Orange Chevelle start its life on the road! The original owner purchased this Chevelle July 26, 1972. For health reasons, it was sold back the selling dealership in 1992, showing ONLY 20,000 miles on the odometer! Not staying long at the dealership, a friend of the family quickly snapped it up with the intent on building a nice street/strip car.
From 1992 until 1998, another 50,000 miles were logged on the odometer and meticulous maintenance was faithfully performed on the Chevelle. Slowly but surely, heavy-duty aftermarket parts were installed on it. Out went the stock 10-bolt rear and in went a Auburn Sure Grip, 3.55 Precision Gears, Moser Axle equipped rear. Other Suspension upgrades include Hotchkis upper/lower control arm kits, Monroe GP shocks, and GM suspension parts.
Not long after, the stock transmission received a rebuild using a Transgo shift kit and a 10" 2800 stall converter. Soon after that upgrade, a heavy-duty radiator was installed to cool the upgrades. However, the stock but faithful 350 two barrel remained as the means of motivation.
While watching the progression, Alan asked the owner, "When are you going to let me buy it?" He persistently asked every year, until January, 1998! Other priorities signaled the Chevelle's sale to him! Finally! Alan began making his changes to the Chevelle by improving the appearance. Two small rust spots on the front fenders were repaired and a weekend buffing the original paint made it look as it did from the factory! The original 14" Ralleys went into storage and a set of 15x7 and 15x8 Corvette Ralley wheels were mounted with BFG rubber.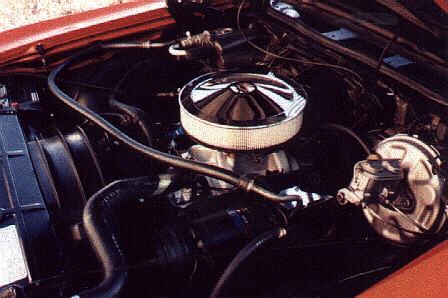 The stock 350 developed internal engine problems in 1998. Now what to do? After many calls to local machine shops, he made a call to Sallee Chevrolet in Oregon. Together, they designed a ZZ4 to his needs, featuring ported/polished L98 heads, Crower stainless steel rockers, a H.O.T. GM hydraulic cam roller cam, port-matched Edlebrock RPM manifold, and a Holley 750 double-pumper with ½" spacer. It dynoed at 436 HP at 5800 rpm and 431 lb/ft torque at 4500 rpm. Best of all, it has a 12 month warranty!
This powerhouse of an engine was delivered complete with an original style GM air cleaner, R&M billet wire looms with Accel spiral core wires, and a GM mini gear reduction starter. Alan had to add some Hooker Super Comp 1 3/4" headers and the original accessory pulleys and brackets.
Other options for driving comfort include working factory A/C, power steering, and power brakes. Alan says the Chevelle is a blast to drive and it looks completely stock!
Alan is looking forward to some summer cruising and meeting up with some fellow MCC Members. It won't be hard to spot Alan and his Flame Orange '72 Chevelle Malibu!

Alan Abram (#375)
Westminster, MD

Click Here to view Previous Features of the Month