Ron and Diana DelRicco's 1967 SS
When is the last time you saw a 33-year-old car with less than 40,000 miles on it. Well search no further; Ron and Diana DelRicco have just what you are looking for; a 1967 SS Chevelle with 36,000 original miles. When Ron first spotted this Chevelle, he was drawn in by the rare color scheme of the Tahoe Turquoise Lacquer paint and the Aqua bucket seat interior. The car was in immaculate condition and it was quite obvious to see that it had a frame-off restoration, even before looking underneath. The New York "second" owner advised Ron that he had just completed the restoration and that the car was all original including the unrestored blinker tachometer, the floor console with the original clock still working in it and an AM radio. The car had been painted with lacquer paint, which is now unavailable. Ron could not get the car off of his mind. It was too beautiful to pass up and Ron immediately took the 10-hour drive with trailer in tow to upstate New York to pick up his new girl.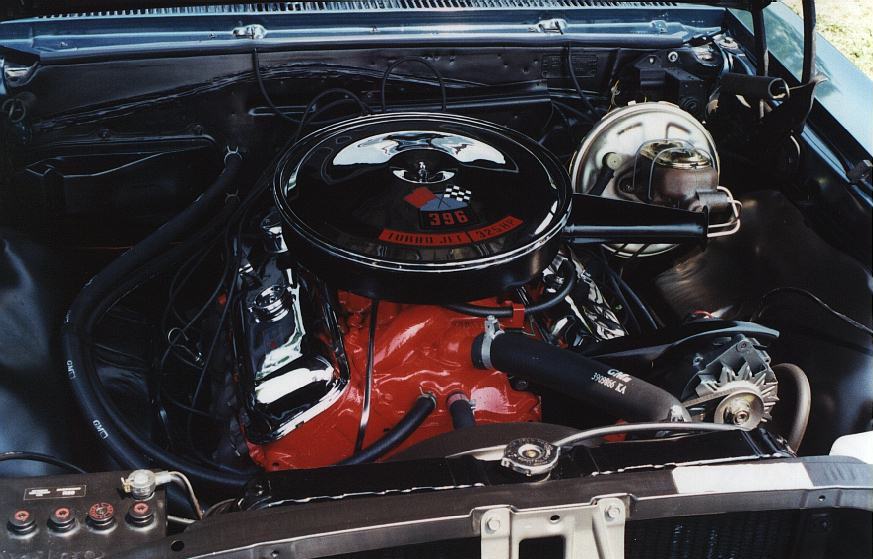 When Ron "popped" the hood he saw one of Chevrolets major accomplishments, a powerful 396 cubic inch big block. Underneath the air cleaner is a Quadrajet carburetor resting on top of the stock manifold. Inside this massive hunk of steel is 10.5:1 compression, and a stock cam producing 325 HP direct from the factory. No headers here. The stock dual exhaust manifolds send the gasses back to exit the rear. Ron only has to shift once into high gear with the 2-speed Powerglide tranny, which turns the 12 bolt, 3:73 positraction rear. Power steering allows Ron to easily turn in those tight spots and the power brakes get her stopped in a timely manner.
In the past three years Ron and Diana have had the 67 SS, they have had to do very little maintenance, other than adjust the carburetor and replace the R59 just before the June 8th ACES show where they have placed in the Top Three for the second year in a row. When Ron and Diana attended the 13th Annual Maryland Chevelle Club show in North East, MD, Ron was able to purchase an Ron and Diana DelRicco's 1967 SS original pair of spiral shocks that Chuck Hanson of ACES was selling. These were the correct dated pair that Ron had been searching high and low for.
This 67 SS is considered the family baby and always has a comfortable ride to the car shows in an enclosed trailer escorted by Ron, Diana and their three small children, Devin, Demi, and Dillon. It is very difficult for them to attend every car show with the children but they faithfully attempt to get to as many as possible. At the shows the DelRicco's do attend, the 67 SS usually places in the Top Three in the original restored class.
Ron and Diana love the classic muscle cars and especially the lines of the 67 Chevelle SS. As a hobby, they also enjoy collecting the die-cast Chevelle cars and model kits.
Their life-size car collection consists of this finished 1967 Chevelle SS, a 1969 Z28 Camaro, a 1967 Corvette soft/hard top, a 1964 Corvette Coupe and 1927 Model T Ford. A Ford? How did that get in the bunch? Oh well, that's another story. Bottom line is they love their Chevy's.
Ron and Diana currently have a few other works in progress. This includes an almost finished Marina Blue 1967 Chevelle SS Convertible with a white top, and two additional 1967 Chevelle SS cars which are receiving frame-off restorations. We can't wait to see them!

Ron and Dianna DelRicco (#365)

Click Here to view Previous Features of the Month