October, 2000 Feature Article of the Month
---
Donny & Donny Gray Jr's 1969 Chevelle SS 396
When my son, Donny turned 19 he, out of the blue, came to me and said, "Dad I want a Chevelle!" Well, I was overjoyed, and after I picked myself up off the floor, I thought this was great! Here's another Chevy fanatic in the family. I was skeptical at first since Donny had never shown any interest in cars, but hey, he wanted a Chevelle and I felt this could be fun for the both of us.
The Carlisle Show was coming up and I asked Donny if he wanted to go to look for a Chevelle. So Donny, his fiancé, and I headed north to Carlisle. Needless to say, there were plenty of Chevelles there but a bit out of his price range. While we headed home, I could tell Donny was a bit disappointed…OK he was a lot disappointed. I kept telling him we just got started looking, but we will find something. It's going to take some time.
The next day I was checking out the Baltimore Sun Classifieds. I FOUND ONE, a 1969 Chevelle SS 396 for sale. The price was higher than Donny had saved but it wasn't too far off. We were soon off to Ellicott City to check the car out. As we drove up the street, we saw the Chevelle was parked in the driveway., I thought to myself, "We are not leaving without this car", as we got closer.
After we parked, we got out and began checking the car out. The owner started it up and took us for a ride. When we got back, I continued looking over the car with my "limited expertise" to see if the car was in as good of shape as it seemed to be in. I must say it was in GREAT shape. But the price was still a problem $2000 more than Donny had saved. So we headed out to get some lunch and talk. As we sat down, I could see that Donny wanted this car as much as I did, but being the "DAD" I had to be the grown-up and make the "grown-up logical choices"…yeah right!
Donny's plan was to get the Chevelle as a daily driver. As a 30-year-old vehicle, this was a classic show car, not a daily driver. So I made a deal with him, If he would keep his truck for at least 6 months I would "loan" him the additional money to purchase the car. He agreed and a legal contract was drawn up on a McDonald's napkin (we still have the napkin). We returned and purchased the car!
I gave him the lecture on what this car meant, especially the POWER…going from his S-10 pickup 4 cylinder to the Chevelle… there would be a big difference. He had to drive it with respect! After Donny was stopped several times and asked all kinds of questions about the car at gas stations and everywhere else he went, he realized he had a TRUE CLASSIC MUSCLE CAR!
We joined the MCC and ACES and hit a few late season shows. We cruised to the local cruise spots and really began to enjoy the cars and people. Soon the car began to take over the family, Donny's fiancé was purchasing things for the car, and my daughter constructed a WEB PAGE for the car! (www.donny.highspeedzone.com). My father just bought a 1967 El Camino to get in on the fun!
The Chevelle became the weekend cruise car. Out of the blue my daughter suggested we go to the ACES Chevellabration! We made plans, borrowed a trailer and towed the Chevelle to Nashville. We joined up with the other great Maryland Chevelle Club members and had a great time.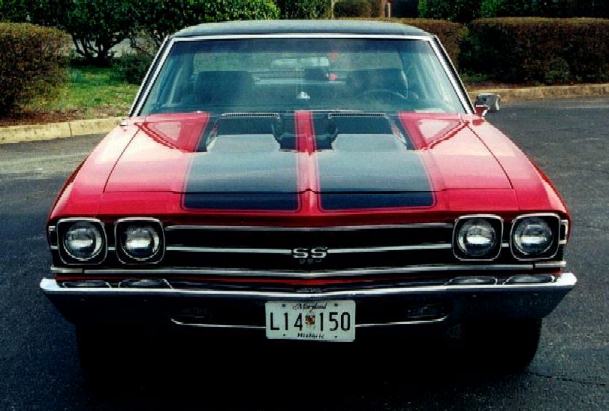 Built in June 1969 in Baltimore, the Chevelle is optioned out quite nicely with; matching number 396-325, Turbo 400 transmission with a shift kit, 12 bolt rear with 3.73 gears, Corvette rally wheels, and tilt wheel. It recently received a new interior and was repainted Torch Red with Black stripes. The vinyl top was replaced with leather. In addition, we have replaced the brakes, installed a Dynamax exhaust, added P235/60R15 Goodyear Eagle GT II tires and a few chrome goodies in the engine compartment. Future plans include an engine overhaul; thanks to some help from Bob Wilcox fellow MCC member.
I must thank my son for getting us into this car. I have always wanted a chance to own, show and enjoy a classic car, but Donny got us into a true MUSCLE car. His Christmas and Birthday presents to me have been given to me in full for quite sometime, because every time I clean, work on, show, and drive the Chevelle, it's a great feeling. The Chevelle has drawn the family together in a common interest, it has become part of the family.

Click Here to view Previous Features of the Month