September 2002 Feature Car
---
Doug Yoder's 1966 Chevelle SS 396
You just never know what someone has lurking under one of those blue tarps behind or beside their garage. Doug's story is almost just like one of those "barn type" finds.
In the summer of 1996, Doug was reading the local auto locator paper and saw an ad for two (2) 1966 Super Sport Chevelles. He called the number listed and discovered that they were only 15 minutes away from his house at the Maryland/Pennsylvania border. Arrangements were made to take a look at the cars.
When Doug arrived, the owner took him behind his garage and showed him two cars covered with blue tarps. He explained that he had already sold one of the cars and then uncovered the unsold one. To Doug's dismay, the car was in really bad condition and wasn't even a Super Sport. He basically told the owner, "thanks, but no thanks", left him a business card (as any good businessman would do) and left for home disappointed. Approximately a week had gone by when Doug received a call from the guy. As luck would have it, the other unseen car that had been previously sold, was not as sold as the owner thought. Doug made arrangements to meet with him again and check out the car.
When the owner pulled the back the blue tarp, unveiled was a mist blue, true '66 Super Sport Chevelle with a white bucket seat interior. The owner told Doug she had been used for drag racing for a few years. The wheel wells were cut out, as well as, the floor tunnel (for a different transmission). There wasn't any rust in the quarter panels, but they were a little "hacked up". The dash and windshield areas were rusted out and would require quite a bit of time to restore. Ah, but you haven't heard the best part yet. He then took Doug inside the garage and under yet another tarp was the original 396 and 4-speed Muncie transmission. The owner referred to the engine as the "boat anchor", as he was a small block guy. The car outside may be gutted, but he explained that all of the parts were there and would go with the car. Doug decided she was worthy of another chance in life and bought it on the spot. When he went to pick up the car, as promised, it was full to the roof with the many pieces and parts.
It would be another 3 years before Doug actually got the time to begin work on her. In-between work on his customers' cars, a full frame-off restoration was now underway. No expense would be spared to get her back to 110% original.
Doug started by completely removing every part left on the body, inside and out. It was then stripped down to bare metal and painstakingly massaged to sheer perfection. The body was then removed and attached to a rotisserie, which gave him easy access to the bottom floor panels. Once the body was completed, Doug focused his attention on the frame. It was stripped bare, sandblasted, sprayed with acid etching primer, followed by build up primer and then blocked to remove any little pits or imperfections. Once completed, he sprayed the frame with 4 coats of 60% gloss black.
The 396/360 HP was rebuilt, painted Chevy orange, topped with the original GM manifold, and installed. Transferring all of this horsepower to the 12 Bolt 3:31 Posi-traction rear is the job of a M21 4-speed transmission. The stock dual exhaust was added, allowing every cubic inch of that sweet thunder of Chevy horsepower to be heard when she's brought to life.
A few months later all of the components had been installed on the frame and it was time to reinstall the body. Four coats of Mist Blue paint was applied, wet sanding between each. When he was completely satisfied with the look, she was topped off with 6 coats of clear. Each successive part received the same treatment (doors, hood, trunk, etc…) and was installed.
Options include Power Steering, Power Brakes, Power Windows, factory tachometer, gauges, console and a rear window defogger.
In June of 2000, almost a year later, she was completed and ready to be debuted in her first show at Maple Grove (Super Chevy). Doug was awarded a well-deserved first place. Since then, Doug received the AACA Senior at both Hershey and at Richmond. An additional 6 first place awards have been received at various Super Chevy shows. Doug loves showing his Chevelle all over the east coast, as well as, at each Annual Chevell~abration.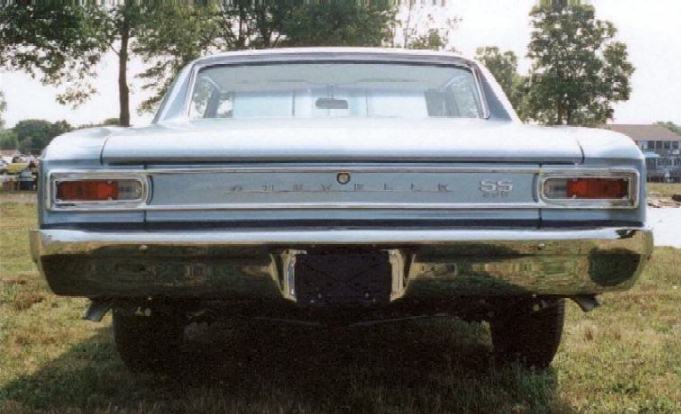 On June 24, 2001, Doug received the Best of Show award at the 14th Annual Mid-Atlantic Chevelle Show/ACES Northeast Regional in North East, Maryland. On June 23, 2002, Doug received the coveted Maryland Chevelle Club Crystal Award at the 15th Anniversary Mid-Atlantic Chevelle Show/ACES Northeast Regional.
There's just one more word left to say about Doug's '66 SS… "Awesome", just simply awesome!

Doug Yoder (#351)

Click Here to view Previous Features of the Month