Bobby Schena's 1969 SS 396 Chevelle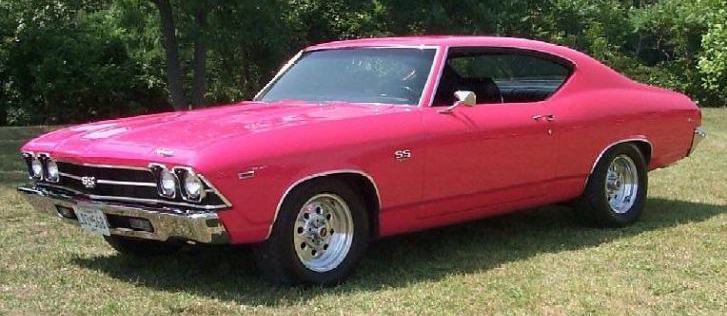 Some say that fate has a way of finding us, it's often just a matter of time. This is definitely true in the case of how Bobby Schena acquired this cherry '69 SS 396.
Around 9 months ago, Jim Russell (a good friend of bobby's and a fellow MCC member) was buying a carburetor from a guy in Waldorf, Maryland. When Jim went to pick up the carb, he noticed this "hugger orange" Chevelle resting quietly in the back of the garage.
After a few minutes of chatting, Jim found out that for the past 14 years she had been restricted to running hard, a ¼ mile at a time. The owner was looking for a "daily" driver and was willing to make a deal, if the conditions were right. Jim immediately thought Bobby might be interested in the car and gave him a call. Bobby was definitely interested and they made arrangements to go over and give her a good checkout. Once the garage door opened, just one look was all it took. Bobby knew he did not want to leave until his name was on the title. Bobby had just finished a 5-year restoration on a '72 El Camino and offered it in Trade. The reply that day was "let me think about it". Bobby didn't get to take her home that day, but she never left his mind.
A couple of phone calls and a few weeks later, he asked again, "Trade? YES or NO, make a decision!" You bet! The deal was made, titles were exchanged, and Bobby finally took her home.
The heart of this Chevelle is a 396 Big Block bored .60 over for a total of 408 Cubic Inches. A Team "G" intake along with a Holley 925 Carburetor ensures she gets all the fuel she can handle. With 11:1 compression, and a Crane Cam (.589 lift, .294 duration) inside, she is rated at roughly 450 Horsepower!
Behind this monstrous engine is a Turbo 400 transmission, 3500 stall speed converter and a 12 bolt posi-traction rear with what Bobby calls "streetable" 3:73 gears. Weld rims mounted with B.F. Goodrich tires maintains a smooth ride, as well as successful launches. A set of Hooker headers and California Tech mufflers projects that deep throaty sound we all love to hear.
Though her "race" days are technically behind her, that's not entirely true. She has been spotted at some of the local tracks. Way to go Bobby!

Bobby Schena (#167)

Click Here to view Previous Features of the Month